Vessels
GeoSurv and their partner Marine Revolution have customized their survey vessel MV Swordsman with a suite of geophysical survey instruments. The vessel has a purpose built GPS frame and bespoke overside brackets that fit our SEA SWATHplus Bathymetric & Sonar system and sub-bottom profiler system. In addition to this a motion sensor has been installed in the hull at the central reference point (CRP) of the vessel. All offsets have been measured with a Total Station ensuring accuracy and consistency. The vessel is  fully equipped for inshore survey work from the shore line to 60m water depth.
MCA Category 4 Survey Vessel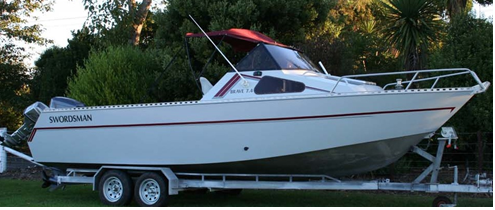 The Swordsman is a road transportable vessel with a top speed of 38 knots and is operated by our partner Marine Revolution from their home port of  Tayport, Scotland. The vessel has been used for a wide range of scientific research and survey applications including Marine mammal research, Acoustic Monitoring, Bird surveys, Water and Benthic sampling and hydrographic multibeam surveys. GeoSurv and Marine Revolution are currently modifying the vessel with extended roof cover.
Fully equipped for inshore survey work the vessel can be quickly mobilised anywhere in Scotland and further afield.
Quiet Water Swath Survey Craft
With a retractable Swath bathymetry and side scan transducer pole the Zego can survey from 0m to 50m and more in quiet water environments. The craft is particularly useful for investigating cable and pipeline landfalls, harbours including quay walls and berthing areas and approach channels.
MCA Category 2 Survey Vessel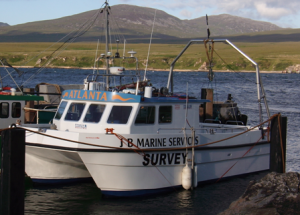 JB Marine provides an MCA category 2, 11m x 5m survey vessel to GeoSurv for survey operations up to 60 miles from a safe haven. The catamaran is a stable platform for all geophysical, environmental and oceanographic work and has proved itself a competent vessel in areas of high current flow. The vessel is fitted with two purpose built aluminium overside poles that can accommodate GeswathPlus/Multibeam head, Pinger sub-bottom profiler and ADCP instruments. There is also a purpose built 2m long GPS antenna frame particularly useful for POSMV, Trimble SPS551 or Hemisphere Vector. Both the vessel and GeoSurv personnel have experience of working in the Pentland Firth, the Falls of Warness, Orkney and off the Antrim coast, Northern Ireland.
This vessel is also available for charter. Interested parties should direct queries via the contact page.